Olli King, working in the Foreign Office in SA, had been wondering how to get his dad, Rob, a nice birthday surprise whilst both countries were under strict lockdown due to Coronavirus.
He knew his dad enjoyed an occasional beer and discovered that Barnaby's Brewhouse was doing free local deliveries during lockdown in his dad's South Devon area (fortunately beer is an essential service!). 
He contacted the brewery to see if they could deliver not only a case of beer but some pictures drawn by his daughters – Nellie (6) and Alfie (3).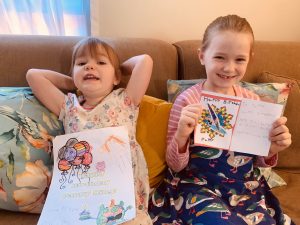 Of course the brewery was only too happy to oblige and offered to help with anything else for the birthday. 
"The whole experience of lockdown has completely changed the business," said Barnaby Harris, one of the brewery's two directors. "With the closure of pubs and restaurants we lost about 90% of our business so providing a great value local delivery scheme seemed the best way to go. To be part of such a lovely good news story in lockdown has been an absolute pleasure."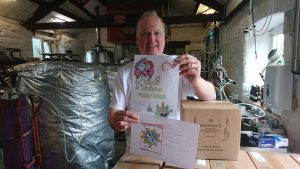 Barnaby Harris holds the girls' pictures up at the brewery
In the meantime, dad Rob (Pappy King!), was delighted to receive not only the beers as a gift from Ollie but the delightful birthday cards from his granddaughters and a lovely photo of them too!
Olli inadvertently benefited too! It emerged that he was also missing his beer (unlike the UK, South Africa is under an alcohol sales ban) and had turned to making homebrew. Fed up with bottling he had been searching for a corny keg (a 19L keg used by homebrewers to store and serve beer) so that he didn't have to bottle everything he made. As luck would have it there were several at the brewery and one is now winging its way to Olli.
"This is exactly why I love local business!", said Olli.