Organic Craft Lager
At Barnaby's Brewhouse we combine an ecological ethic and passion for our products to produce unique organic lagers that suitable for everyone, including vegetarians and vegans.
We aim to be a completely sustainable business using renewable energy sources and repurposing or reusing all waste products resulting in a pure clean taste.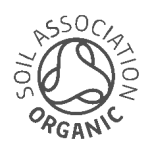 We are certified organic by the Soil Association. We use organic malt and hops sourced in the UK and our water comes from a natural spring that rises on the organic farmland a few hundred yards from the brewery.

OUR LAGERS
Pilsner, Red Helles & Dark Dunkel