Barnaby's Brewhouse Magazine

At Barnaby's Brewhouse we spend a lot of time experimenting with beers and food. Naturally, as brewers, we believe they are a perfect match. But don't just take our word for it. Local chefs Chris Sherville and Ankur Biswas have been kind enough to apply their unique talents to preparing recipes using our beers.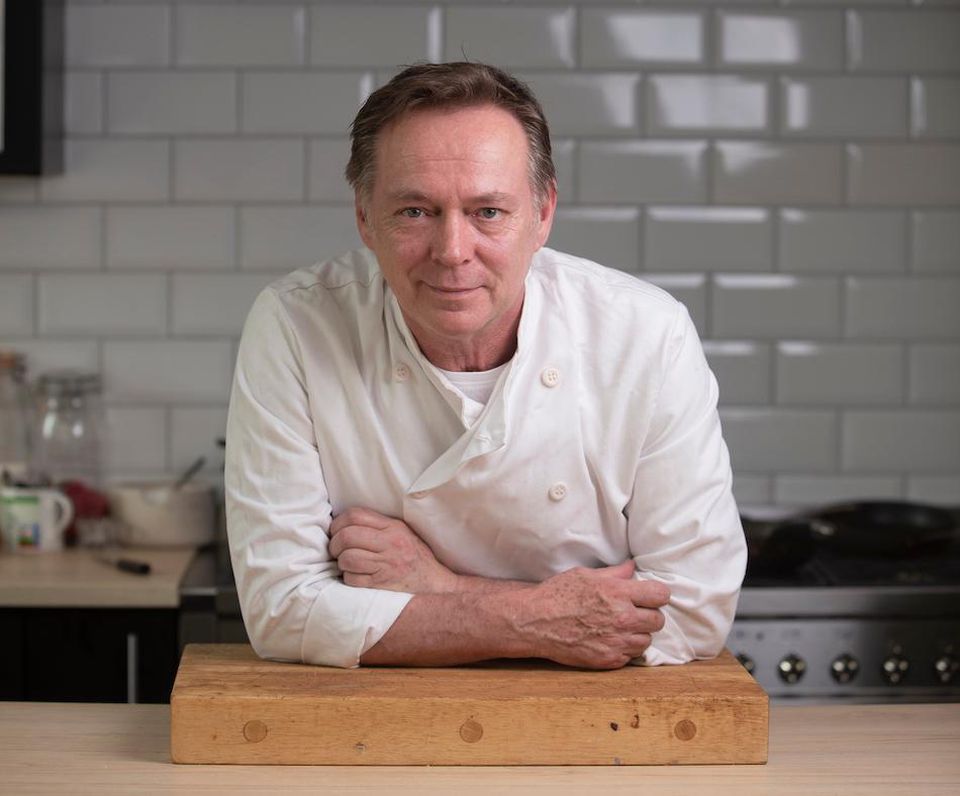 Moules a la biere with Pilsner
1.6 kg mussels
340 ml Organic Pilsner beer from Barnaby's Brewhouse
2 shallots, peeled and finely chopped
2 garlic cloves, peeled and finely chopped
1 tbsp cracked black pepper
4 tbsp creme fraiche
Wash, de-beard and remove barnacles. Discard any that do not close when tapped.
Heat a large, heavy saucepan until very hot. Add beer, pepper, shallots, garlic and black pepper, followed by the mussels. Cover with a lid and leave to cook, giving the mussels a stir after 2 minuets. As soon as they have opened , drain and keep the liquid. Discard any muscles that have not opened. Tip the liquid back in to the pan and bring to a simmer, add the creme fraiche and continue to simmer until reduced by a third. check the seasoning, return the mussels to the pan then serve with fresh crusty bread.
Beer and Cheese Soup with Red Helles
1 Medium onion, chopped
75g Unsalted butter
150kg Kind Edward potatoes, peeled and cubed
75g Plain flour
250ml Chicken stock, a cube would be fine or Marigold Bouillon for a vegetarian version
250ml whole milk
500ml Red Helles Organic lager from Barnaby's Brewhouse
1 tbsp worcester sauce
1tsp Dijon mustard
350g mature farmhouse cheddar
Melt the butter and add the onion and potato and cook on a low heat until softened with a cover over the pan.
Add the flour and stir it around to cover the onion and potato, add the milk, stock and lager, and bring to a simmer and cook for 15 minuets or until the onion and potato are completely cooked through. Add the mustard and Worcester sauce, then liquidise. serve in warm bowls with the cheddar grated thickly over the top and a hunk of crusty bread.
To make it gluten free. replace the flour with an additional 100g of potato.
Chris Sherville
From the Far East to the south west, Chris has lived, travelled, eaten and cooked giving him a broad experience of different cultures and an extensive palate of flavours to work from.
In the heart of Dartington he has created a new venue for a food experience with a difference. An open kitchen where 5/6 guests can enjoy a 'Cooking Workshop' with an emphasis on enjoyment and learning, where he is able to pass on his knowledge and enthusiasm for food, from family favourites and the classics, to the global larder. This day is followed by supper for participants and guests.
Carbonnade a la flamande with Dunkel
A classic dish with beef cooked in Barnaby's Dunkel
1 tbsp Lard or oil
250 gms Smoked bacon lardons
4 Onions, chopped
2 tsp ground all-spice
2 tsp dried thyme
1.5 kg shin of beef, cut into 4-5cm cubes. Shin of beef will give the dish the final unctuous texture.
50 gm plain flour
600 ml beef stock. A cube will be fine
4 tsp whole grain mustard
3 tbsp dark brown sugar
600 ml Barnaby's Brewhouse organic Dunkel
4 bay leaves
1 tsp salt
1/2 tsp cracked black pepper
Preheat the oven to 150 degrees/ 130 C/ Gas 2
Heat a heavy based casserole, melt the fat and add the lardons, cook on a medium heat until beginning to crisp. Lower the heat and add onions and cook gently until softened, about 7 – 10 minuets.
Turn up the heat to medium. Stir in the all-spice, thyme and cubed beef, mix it all together, turning the beer as you go. Add the flour and mix again to cover all ingredients.
Add the stock, mustard, dark beer and sugar, stir well and bring to a gentle simmer, stirring all the time to ensure the floury mix does not catch the bottom of the pan. Add the bay leaves and pepper, seal with the lid and then cook for 3 hours. Excellent if left overnight and reheated the following day.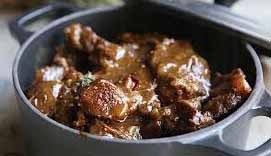 Ankur Biswas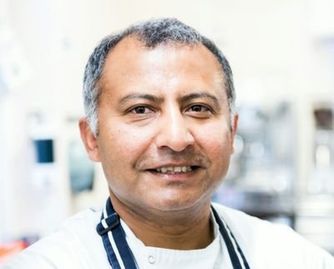 Born and raised in Haridwar, India, Ankur was surrounded by food from a young age with his Grandmother supplying valuable yet endless amount of recipes and cooking advice. As young chef Ankur's travels brought him to London, hes worked worldwide including: Delhi, Canada and Guernsey.   Moving to Dartmouth, gave him the opportunity to work for The Royal Castle Hotel as well as local farmers, fisherman, brewers and wine makers to give him the inspiration for "Namoh Sauce".
"We are a family business and we prepare Namoh Curry Sauce with local and imported ingredients. The recipe is originated from my grandma and I learnt it from my mum. It was always my dream to create sauce that can represent my roots and my origin." Made with a good balance of caramelised onion, ginger, garlic, tomatoes, mixed spices and herbs. It's perfect with chicken, turkey, seafood or an organic lager from Barnaby's Brewhouse.
Lamb do Piazza with Dunkel
Brasied lamb & onion in "Namoh Curry Sauce"
Diced Lamb- 1kg shoulder or leg
Onions – 300g
Coriander seeds – 1tsp
Cumin seeds- 1 tsp
Cumin powder – tsp
Chilli powder – pinch
Kiwi/ Pineapple- 20g – diced
Potatoes – 1 small peeled, cut in to wedges and fried
Oil – 1tsp
Fresh Coriander – 2 springs
Marinate the diced lamb with spices, onions and chopped kiwi for a couples of hours. Add oilin a pan and sweat the marinated lamb and onions till golden brown. Add "Namoh" sauce and 2 cups of water. Add the fried potatoes into the lamb & onion mix and cover with a lid and braise it slowly for 45 minuets to an hour or until tender. Add freshly chopped coriander, and season with sea salt and pepper, Serve it with Roti, tortilla bread or steamed rice. Perfect for a family get.