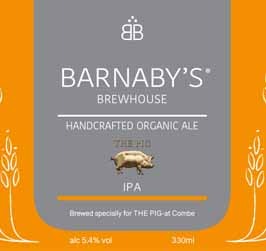 Barnaby's Brewhouse has collaborated with the Pig at Combe Hotel to produce an English style IPA with a fresh hop aroma. The word 'fresh' has never been more appropriate as the hops were picked from the hotel's Victorian kitchen garden and infused in the wort at the end of the boil.
This is the first year the hotel has been able to harvest its hops so this was a very small batch of beer. Nevertheless, the 5.4% ABV ale has gone down very well with guests and staff alike and was included in the presentation hamper of all guests staying on Christmas day.
Hopefully there will be a much bigger crop of the two hop varieties in 2019!