We are delighted to announce we are the winners of the South West Environmental Sustainability Award 2019 – a brand new category in the prestigious Taste of the West Awards. Sponsored by RH Fibreboard, a company which has itself been implementing sustainable business practices, the award looks both at what businesses are already doing to run sustainable and environmentally beneficial operations, but also at their future plans and aspirations.
Our business is founded on principles of sustainability and we have been organic from day one. We are now looking both up and down our supply chains and devising ways in which we can work with suppliers and customers to create extended benefits throughout the wider business ecosystem.
The judges commented: "The ethos, ongoing work, and infrastructure created by Barnaby's Brewhouse is so impressive. They have a strong desire to continue the work they are doing and are passionate about sustainability. The are working incredibly hard to spread the word and to create a model that can be replicated elsewhere across many different groups of businesses."
Over the next year we have significant plans to build on this award and will be working with, amongst others, Exeter University in order to provide an evidence base for our model which seeks to eliminate waste from our supply chain and minimise energy usage.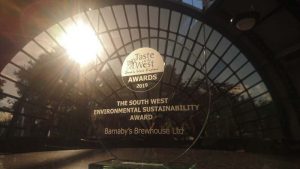 Main Picture: Steve Gardner of RH Fibreboard with Tim and Barnaby